Training Programmes
---
One of the most important resources for organizations is People; as the quality of delivery and services to customers is always intrinsically linked to the quality of individuals in the organization. People being the key to delivery, they need to be agile and be ready to learn as businesses are ever evolving without fixed operational paradigms. Further, customers are becoming demanding beyond imagination asking for better, faster and cheaper products and services.
In this environment, to keep ahead of the competition, it becomes imperative for organizations to offer their employees a platform to continuous broaden their thought process and upgrade their competence set to become better individuals, better team players and better businessmen with clear focus on value delivery to the customers.Accordingly, businesses strive to offer an energetic and enterprising environment to their employees and an opportunity to continuously upgrade through both internal and external interventions.
With our carefully crafted interventions on Leadership Development, Soft Skills and Functional Areas (Marketing/Sales, Finance etc.), we have been adding value to organizations more than over two decades. Whether your company is large or small, at growth stage or mature, local or international, our carefully designed programmes and competent trainers would be able to make positive impact on your profitability through enhancing skill levels, performance and productivity of your people.
As a process, our impact cycle works as follows: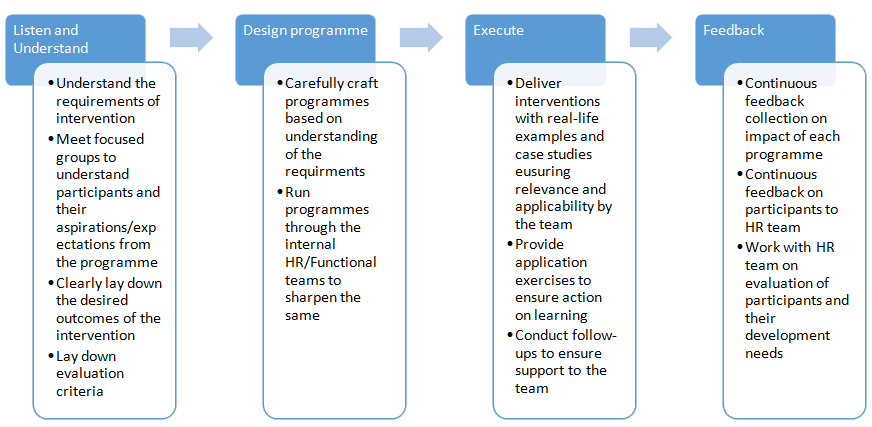 Our programmes are differentiated in following manner:
We have built a team with significant competence to cater to diversified and ever changing needs of Corporates at different stages of business. Further, we have demonstrated track record of value creation in training space, over two decades, with Institutions both in India and Abroad. We do not undertake an assignment until we see a clear value addition through engagement, because, we value your resources – both time and money.
While below is list of some indicative programmes, we would be happy to co-design specialized programmes with your HR/Functional team to truly make an impact:
Leadership Development Programmes

Leadership Development Programme for Middle Management

First Time Managers Programme

Functional Managers to Business Managers

Out-door Training Programmes with various themes

Journey from Good to Great

Soft Skills Trainings

High impact presentations

Communication and presentation skills to win stakeholders

Email Etiquettes

What they don't teach you at B-Schools

Business Development/Marketing/Sales

Finance

Finance for Non-Finance Managers and Decision Makers

Financial Risk Management

Financial Modelling for Decision Making

Workshop on Business Valuation and Project Analysis

Fundamentals of conducting "Financial Health Check"

Connecting the dots of Macro Economics

Bespoke Functional Trainings in Banking and Financial Services (BFSI) Space